What our MATT - CHALK - NATURAL - PAINT
label says in your language.

Click on the photo below to read the label.
---
THE FRONT OF THE PAINT CAN
Below our well-known logo, you can see the color indicator sticker with the name of the color in the can.
The color on the sticker is digitally printed and may not accurately represent the actual dried paint color.
To see the correct color, check it on our hand-painted color chart.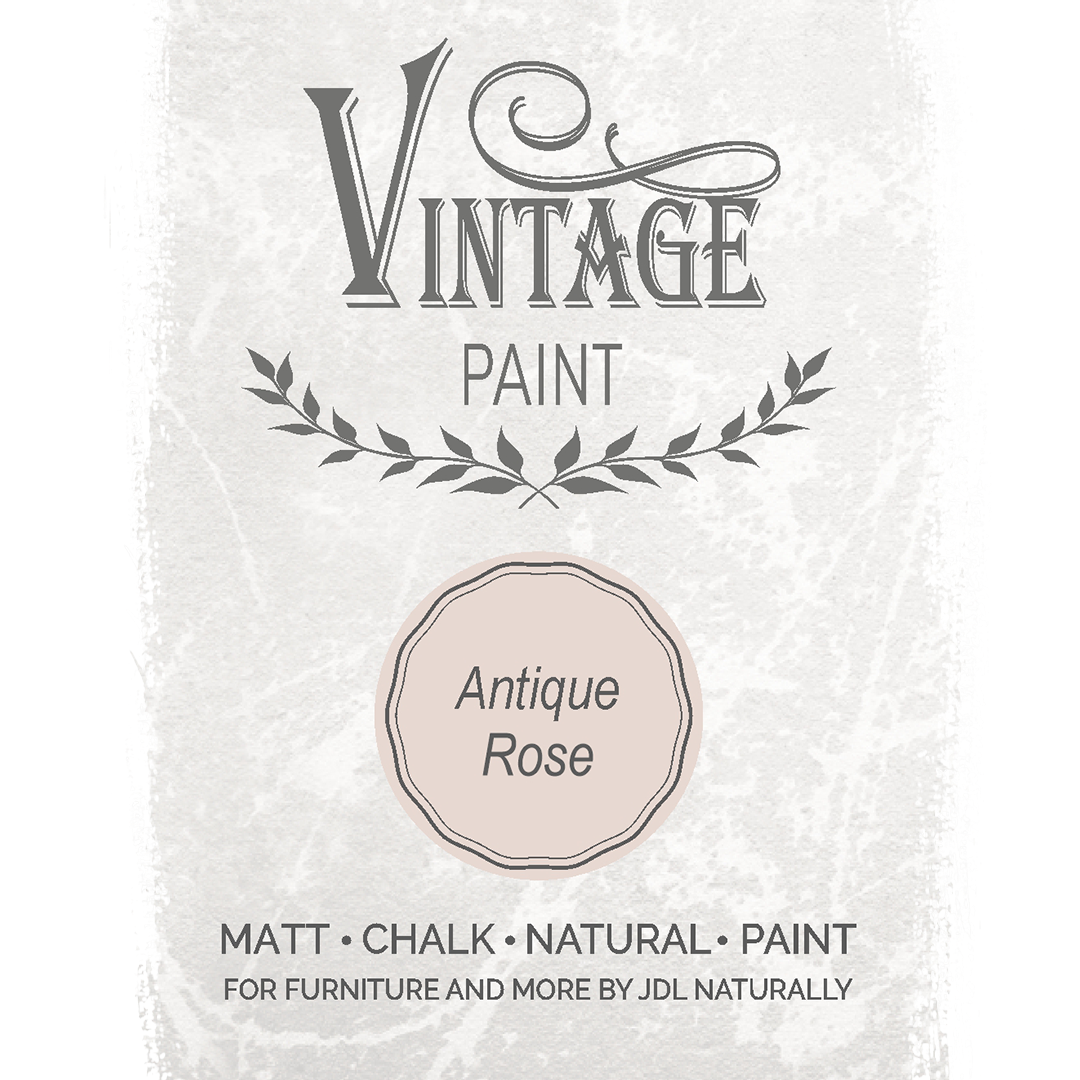 ---
VINTAGE PAINT BY JDL NATURALLY
Vintage Paint by JDL is a high-quality, NATURAL, WATER-BASED, and environmentally friendly paint that adheres to practically any surface (wood, metal, glass, plastic, fabric, etc.) without special preparation providing very good coverage and matt finish. Formulated for furniture, you can easily use it also for objects, kitchen cabinets, walls, floors, tiles, craft projects, and more. Suitable for exterior and interior projects on wood, stone, metal, plastic, ceramic, leather, fabric, canvas, glass, mirrors, bricks, wicker, rubber, etc.
APPLICATION: Stir well in standing circles touching the bottom of the can, since color pigments sink in time. Apply directly to the surface, two thin coats are recommended. The surface should be dry and free of grease. Use the paint as-is.
FINISHING: use our wax or varnish to make the painted surface extra durable and water-repellent.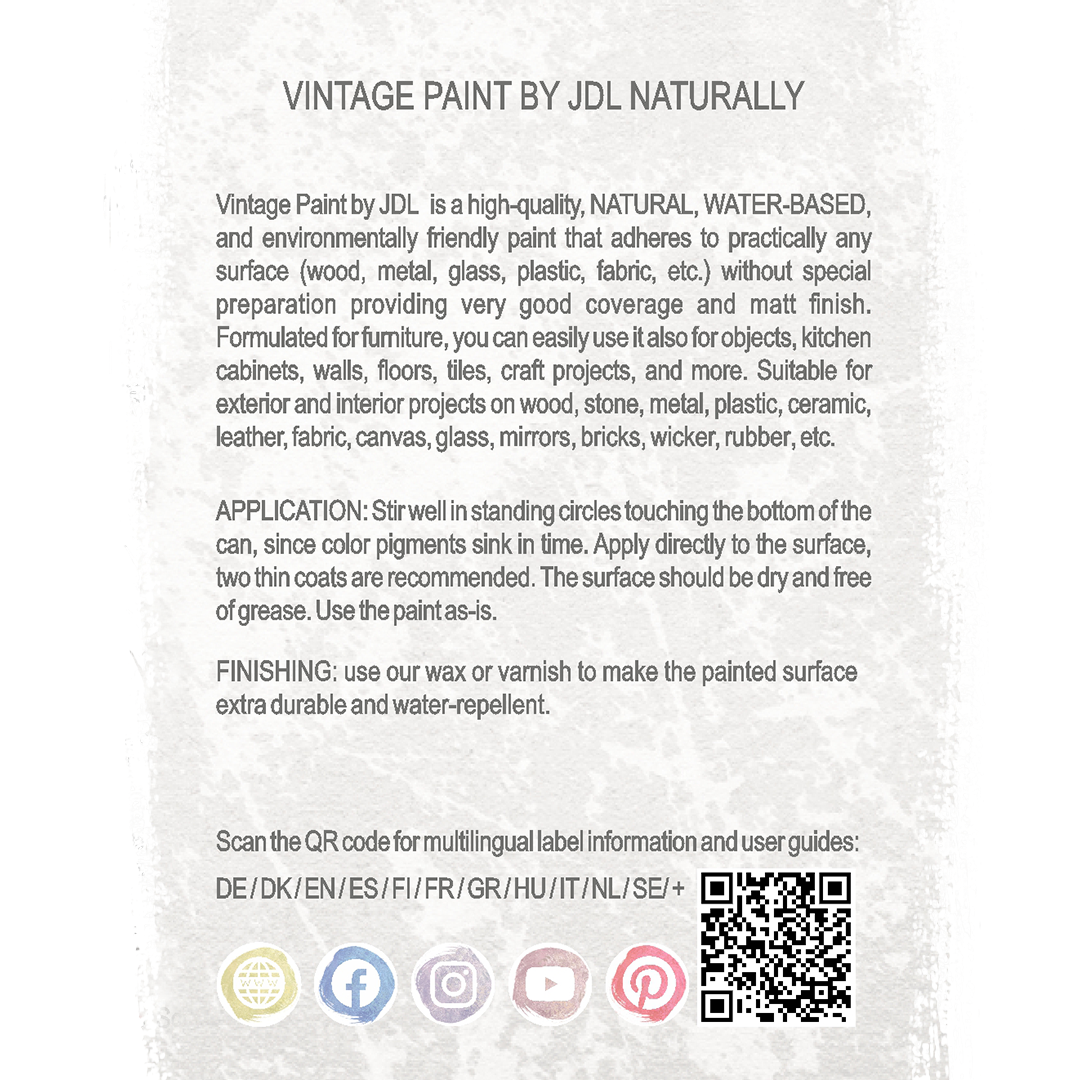 ---
PRODUCT FEATURES
Our MATT - CHALK - NATURAL - PAINT is available in 4 sizes, you can see the content and coverage of the given can at the top as shown below.
50 ml (1.7 US fl. oz.) - TESTER size is suitable for 0.5-0.75 m2 (5.5-8 ft2)
100 ml (3.4 US fl. oz.) - SMALL PROJECT size is suitable for 1-1.5 m2 (11-16 ft2)
700 ml (23.6 US fl. oz.) - BIG PROJECT size is suitable for 7-10 m2 (75-110 ft2)
2.5 L (0.66 US gal) - MULTIPLE PROJECT size is suitable for 25-37 m2 (269-400 ft2)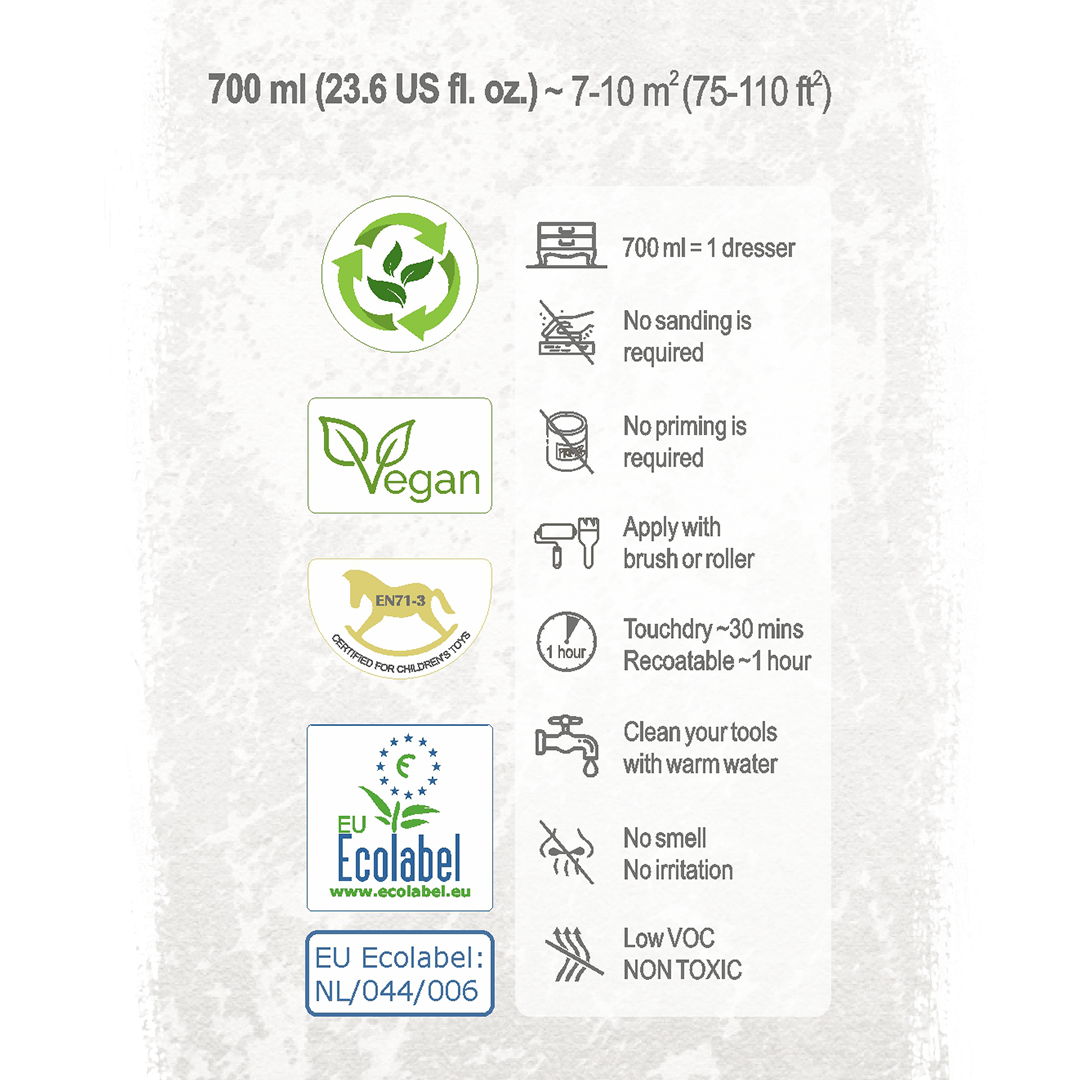 MEANING OF THE ICONS IN THE LEFT COLUMN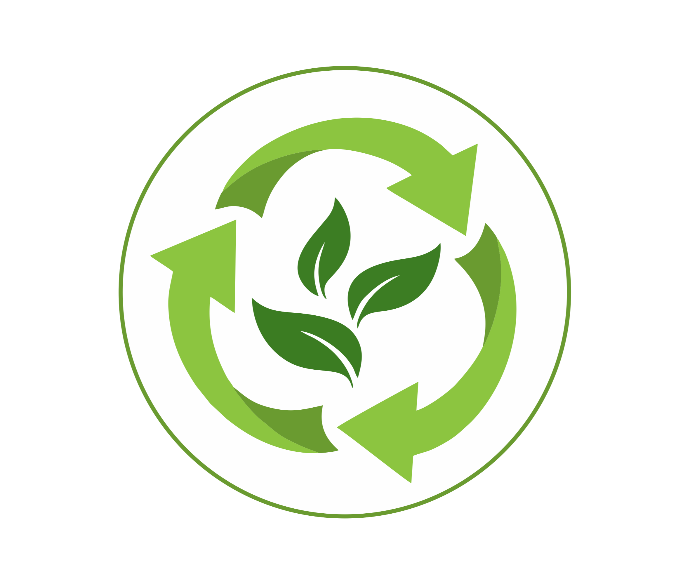 RECYCLE-DISPOSAL
Please dispose of leftover paint according to local guidelines and regulations. Vintage paint is water-based paint and does not contain heavy chemicals/solvents. The metal packaging is suitable for recycling and therefore preferably separated from other waste.
Leftover paint may not be poured directly down the drain. Unused paint can be saved in its original tin by closing the lid well and storing it in a dry and frost-free place.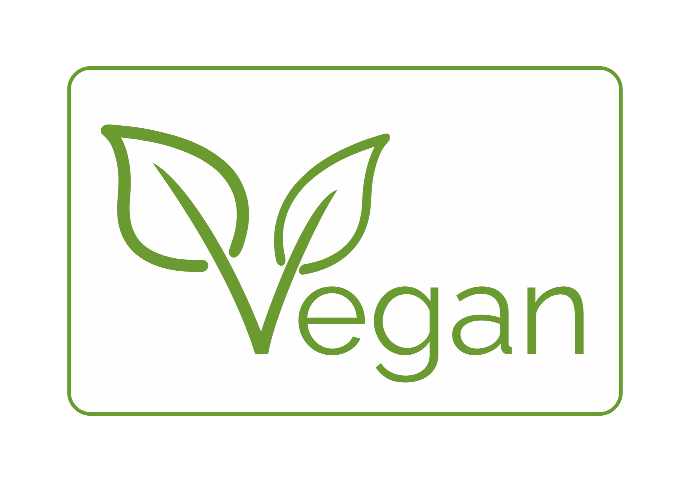 VEGAN PRODUCT
Vintage Paint is free of ingredients of animal origin.
None of our ingredients are tested on animals at any stage of the process. Neither is the finished product.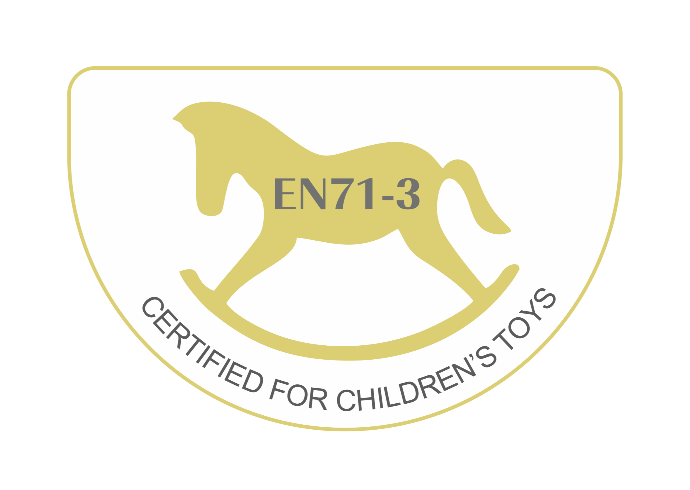 EN 71-3 CERTIFICATION
The EN 71-3 standard assesses the migration of certain chemicals of paint on toys intended to be put in the mouth or to the mouth. Vintage Paint is a clean and safe paint and meets the "Toy Safety Standard" : it has been certified under European Standard EN 71-3 and is safe for use on children's toys and furniture and in babies' and children's rooms.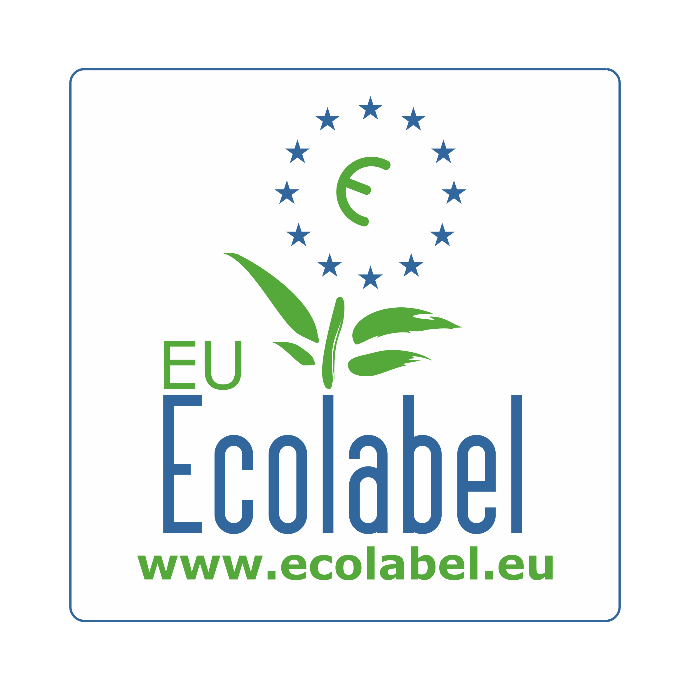 ECOLABEL CERTIFICATION
EU Ecolabel is a world-renowned certification that promotes paint that clearly demonstrates environmental excellence, based on scientific evidence.
Consumers can trust that labeled paint has a lower environmental footprint, generate less waste and CO2 during the manufacturing process, and contain fewer hazardous chemicals that can be harmful to the aquatic environment.
Independent experts are responsible for checking compliance with the EU Ecolabel criteria.
Vintage Paint is Ecolabel certified.
MEANING OF THE ICONS IN THE RIGHT COLUMN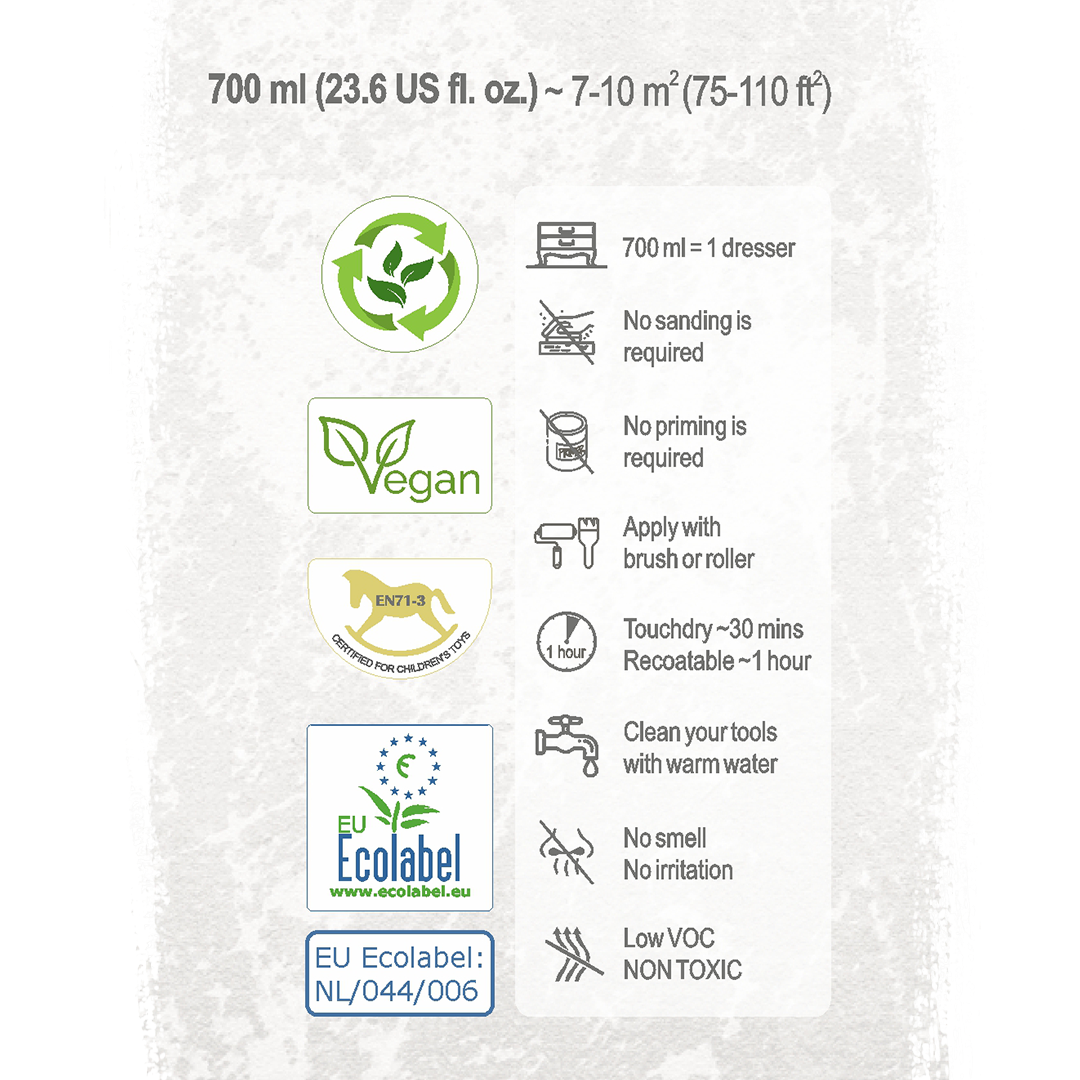 ---
USEFUL TECHNICAL INFORMATION

Sustainably produced in The Netherlands by:
LV Holding bv
Eekhorstweg 4, 7942JC, Meppel, The Netherlands
www.jdlnaturally.com | info@jdlnaturally.com
Tel. 0031619667203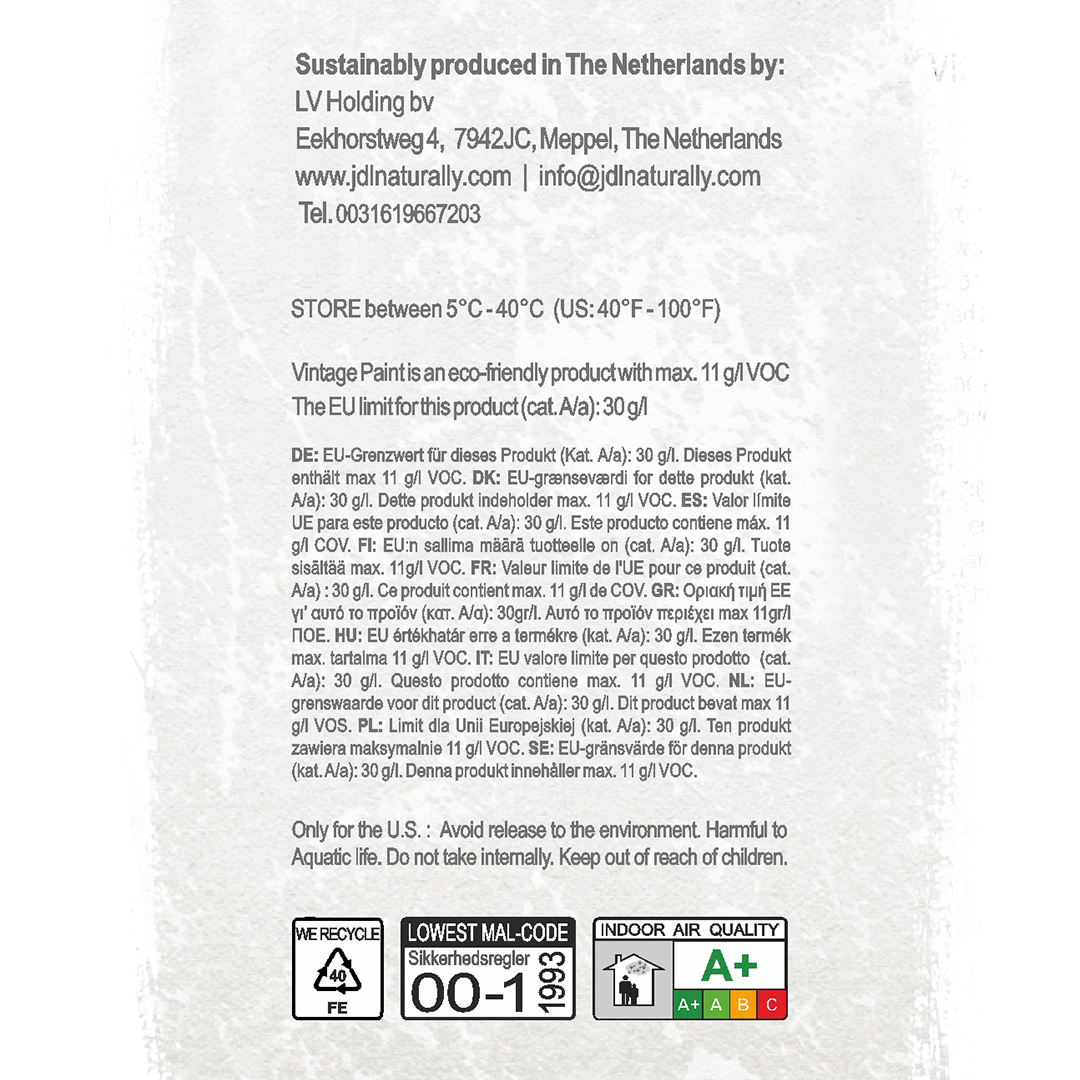 STORE between 5°C - 40°C (US: 40°F - 100°F)

Vintage Paint is an eco-friendly product with max. 11 g/l VOC
The EU limit for this product (cat. A/a): 30 g/l
DE: EU-Grenzwert für dieses Produkt (Kat. A/a): 30 g/l. Dieses Produkt enthält max 11 g/l VOC. DK: EU-grænseværdi for dette produkt (kat. A/a): 30 g/l. Dette produkt indeholder max. 11 g/l VOC. ES: Valor límite UE para este producto (cat. A/a): 30 g/l. Este producto contiene máx. 11 g/l COV. FI: EU:n sallima määrä tuotteelle on (cat. A/a): 30 g/l. Tuote sisältää max. 11g/l VOC. FR: Valeur limite de l'UE pour ce produit (cat. A/a) : 30 g/l. Ce produit contient max. 11 g/l de COV. GR: Οριακή τιμή ΕΕ γι' αυτό το προϊόν (κατ. Α/α): 30gr/l. Αυτό το προϊόν περιέχει max 11gr/l ΠΟΕ. HU: EU értékhatár erre a termékre (kat. A/a): 30 g/l. Ezen termék max. tartalma 11 g/l VOC. IT: EU valore limite per questo prodotto (cat. A/a): 30 g/l. Questo prodotto contiene max. 11 g/l VOC. NL: EU-grenswaarde voor dit product (cat. A/a): 30 g/l. Dit product bevat max 11 g/l VOS. PL: Limit dla Unii Europejskiej (kat. A/a): 30 g/l. Ten produkt zawiera maksymalnie 11 g/l VOC. SE: EU-gränsvärde för denna produkt (kat. A/a): 30 g/l. Denna produkt innehåller max. 11 g/l VOC.

Only for the U.S. : Avoid release to the environment. Harmful to Aquatic life. Do not take internally. Keep out of reach of children.

FE 40 recyclable material
The icon of the three black arrows chasing each other (the Möbius cycle) is the international symbol for waste recycling and this icon specifies that Vintage Paint's tin is recyclable.
The numerical codes accompanied by acronyms inside the symbol are associated with different types of material and allow the consumer to recognize them.
FE40 indicates the iron destined for recovery in bins or separate collection containers according to the provisions of local administrations.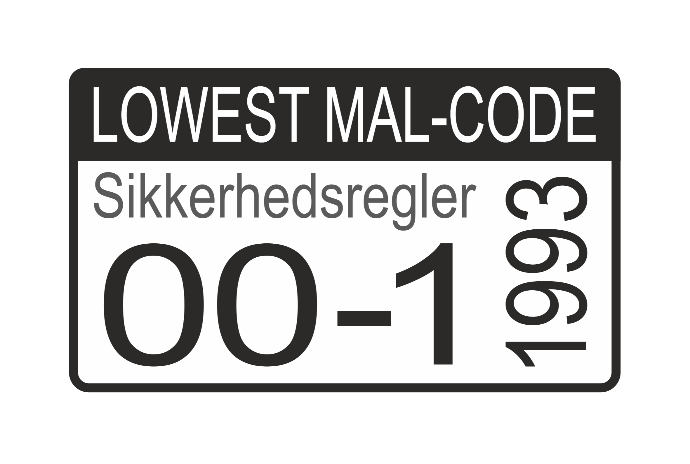 MAL-CODE
The MAL-code is a Danish sign created for professional users which informs you about the possible health risk associated with working with paint. The code is used only in Denmark.
It consists of two numbers attached by a hyphen. The first number indicates those safety measures you have to take as a minimum to avoid breathing fumes from the product's content of volatile substances. The second number indicates those safety measures you have to take as a minimum to counteract the health risk associated with the product, if it comes into direct contact with the skin or the airways, or if ingested.
The number before the hyphen goes from 00 to 5, and the number after the hyphen goes from 1 to 6. The higher the number, the higher the need for safety precautions.
Vintage Paint is rated with the lowest MAL-code: 00-1.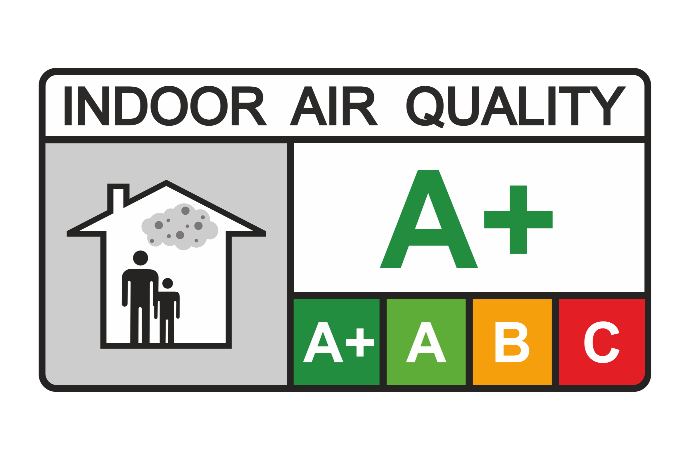 A+ INDOOR AIR QUALITY
The "Air Label Score" label indicates the level of emission of Volatile Organic Compounds (VOC) into indoor air. It guarantees consumers the best available information and its goal is to limit the emission of volatile pollutants indoors.
The letters indicate the level of emission of the paint in volatile pollutants into the indoor air of a room: the rating ranges from "A+" (the product emits very little) to "C" (the product emits a lot of volatile pollutants). Be aware of any supplier advertising its product as VOC-free. No paint is completely VOC-free but, it can be only low in VOC.
The A+ label demonstrates that the amount of VOCs produced by Vintage Paint is among the lowest and that all indoor air quality standards are met in full.

Indoor air quality plays a crucial role in the health and comfort of homeowners, children, and pets. Air quality can impact our health, comfort, and overall well-being. With the increasing amount of time spent indoors, it has become increasingly important to pay attention to the air quality in our homes.
Choose another product to read its label info.

Click here.