How it started with Vintage Paint
• Back in 1986, when I was 26 years old I fell in love with a beautiful historic house. It was built in 1874 and as it was in a very very bad condition, nobody wanted it..
My passion for this house had no limits and together with my wife Ineke we used all the money we had to buy the house and start restoring it.. building our dream. What followed was a very long journey of many years with hard and dedicated work. I wanted to give the woodwork an old style with the ancient look and I had to find the right materials and mix my own paint colors to achieve the desired effect of the ancient patina. That is how my interest and experience with paints and ancient patinated colors started 36 years ago.
I'am currently still involved in several renovations and restorations of historic buildings and also here I love to bring back the beauty of ancient details and colors.
• At that time I also wanted to switch from my technical work to a fielt where I would work with people. This led me to work with mentally handicapped youngsters.. A completely new world.. After 8 fulfilling years I was ready for a new challenge and started working for the American company Motorola as key account executive for the BeNeLux countries. It was a very nice and exciting job but involved a lot of traveling all over the world and in the sales area itself. That part I started to dislike very much while it disturbed the family life with our 3 young children. That is why I decided to turn one of my hobbies into my own wine business..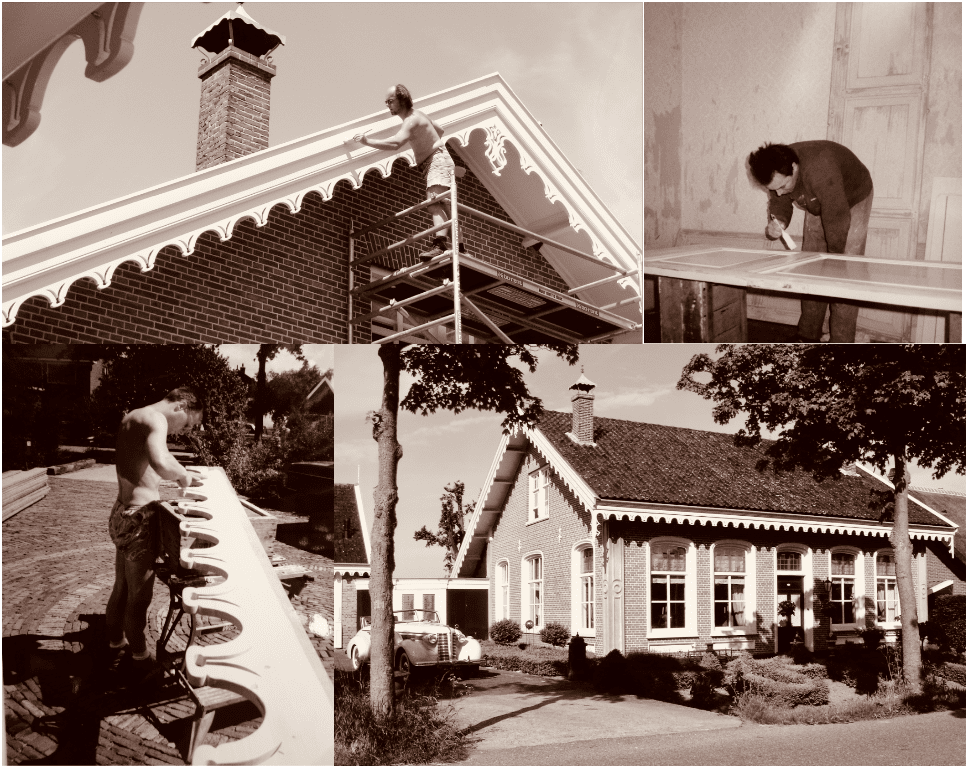 Work in progress discovering paint and patina, all an old house needs to be honoured and shine.
• I loved the creative aspect of it and designed my own labels, bottles and packaging and we created high class products.. The company grew rapidly and became an international business, but this also had a downside. People started to copy our products and the company grew faster than I could follow.. Combined with my lovely young family with 3 young kids it became too much of a workload to be a happy and balanced person. Becoming burned-out, I decided to sell the wine company after eight good years..
• I recovered, and felt like I had learned a lot from the adventure of building and running my own company: sitting still was no option. We came across a Danish interior design company Jeanne d'Arc Living which just started. We teamed up and I developed sales and extended the company to multiple new markets in Europe. We became co-owners determined to develop the company further.. We used to make our own magazine combined with home decoration items. Based on my experience and the fact that the company was good in inspirational ideas for houses, I launched the idea to introduce our own paint in 2011..
• All available paint brands in the market where tested and noted all their pros and cons. Based on the fielt research, I made my own wish list…. It had to be an easy to use clean and natural smooth breathing paint, which could be used inside & outside, on furniture & walls and without the specific need to finish or protect it with wax. With the laboratory team of an ancient Dutch paint factory, specialised in natural paints, we have worked 2 years to develop Vintage Paint. We started off with the old recipe the factory had and tweaked and improved that in time. The new developed paint was so safe and clean that we could apply for the EU Ecolabel right away and also the EN approval for use on children's toys, which we both passed with ease. Therefore Vintage Paint became an instant hit.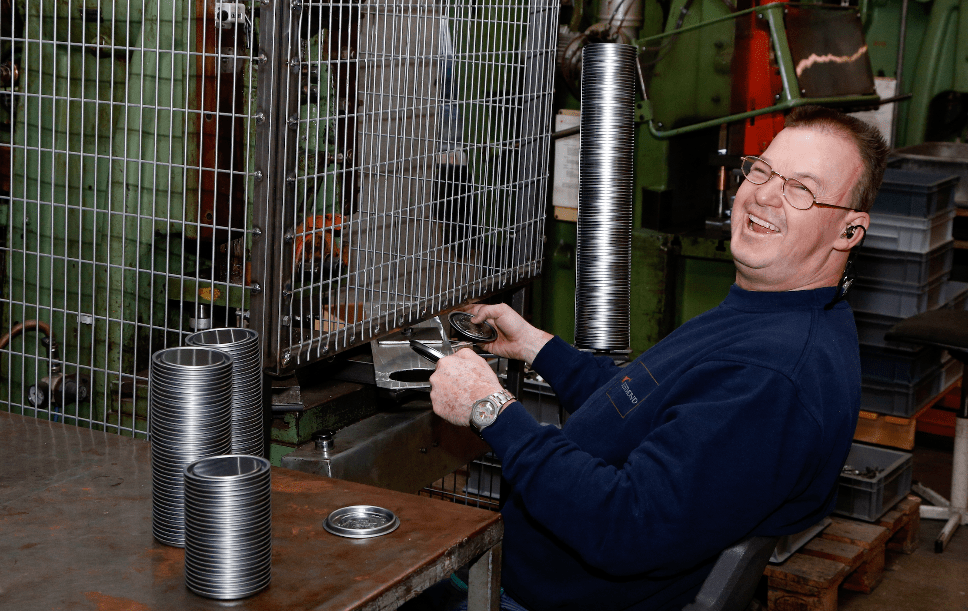 See Harry's smile, no need to explain that he loves his job.
• Vintage Paint kept on growing and became the most important product group of Jeanne d'Arc Living. In 2020 we decided to split the company in order to create more focus for Vintage Paint brand. This made it possible to expand our offering by adding more accessoires, making more things possible for our customers.
• My passion for vintage paintwork and my persistence paid off.. but I wanted more than just a great natural paint: I also wanted it to make a positive impact on the society. Based on my earlier social work I knew there are many people who have a hard time finding a job and being a part of our society. Many are regular people like you and me, but with less luck having to deal with immobility, brain damage after an accident, you name it.. I wanted to give them a chance to participate in our society and company. Vintage Paint provides them a job they can take pride in, becoming part of a successful product range and team. We started with a trail run for the packaging process in 2014 and found it was a big success. People loved the work and we loved the result of their motivated labour.
• Next goal was letting the workers collect and pack orders and manage the warehousing. A big goal, since no mistakes may occur in such a process. A new and very costly software was developed, ensuring we could reach our quality standards while bringing our social goal to a higher level. All orders are now collected and packed by passionate workers. All these people have their own story and all play an important role within our company.
• Recycling and sustainability has become more and more important nowadays. We strive to reduce waste and use of plastics as much as possible. Our natural paints and waxes are free of plastics and also in our packaging we don't use plastics like adhesive tape. We use metal staples to close our boxes. To preserve and protect our products while shipping we invested in a machine which shreds used cardboard boxes. It turns the old used boxes in a soft cardboard coat, which we can wrap around the products. That really works very well and if offers also a daily job for 2 workers who love to do simple repeating work.
The end result fills me with pride: all these great workers fulfil an important role in creating a natural high quality and sustainable product on a social basis. This combined with our dedicated sales team and network of loyal resellers all over Europe and abroad makes us a very special company…
We paint the world a better place with Vintage Paint ! Passionate regards Erasmus Hoetjes.